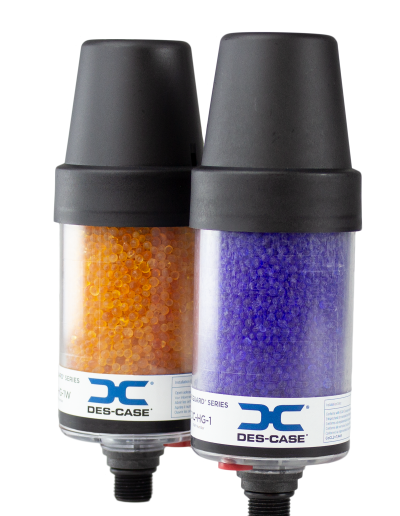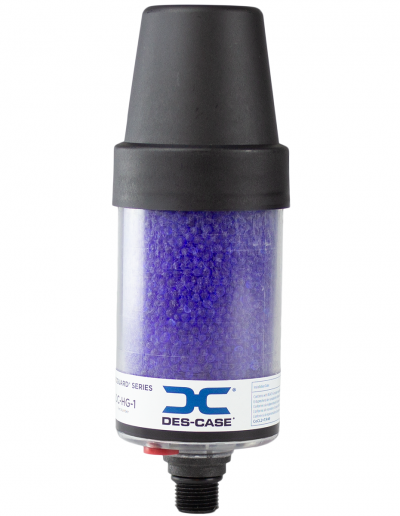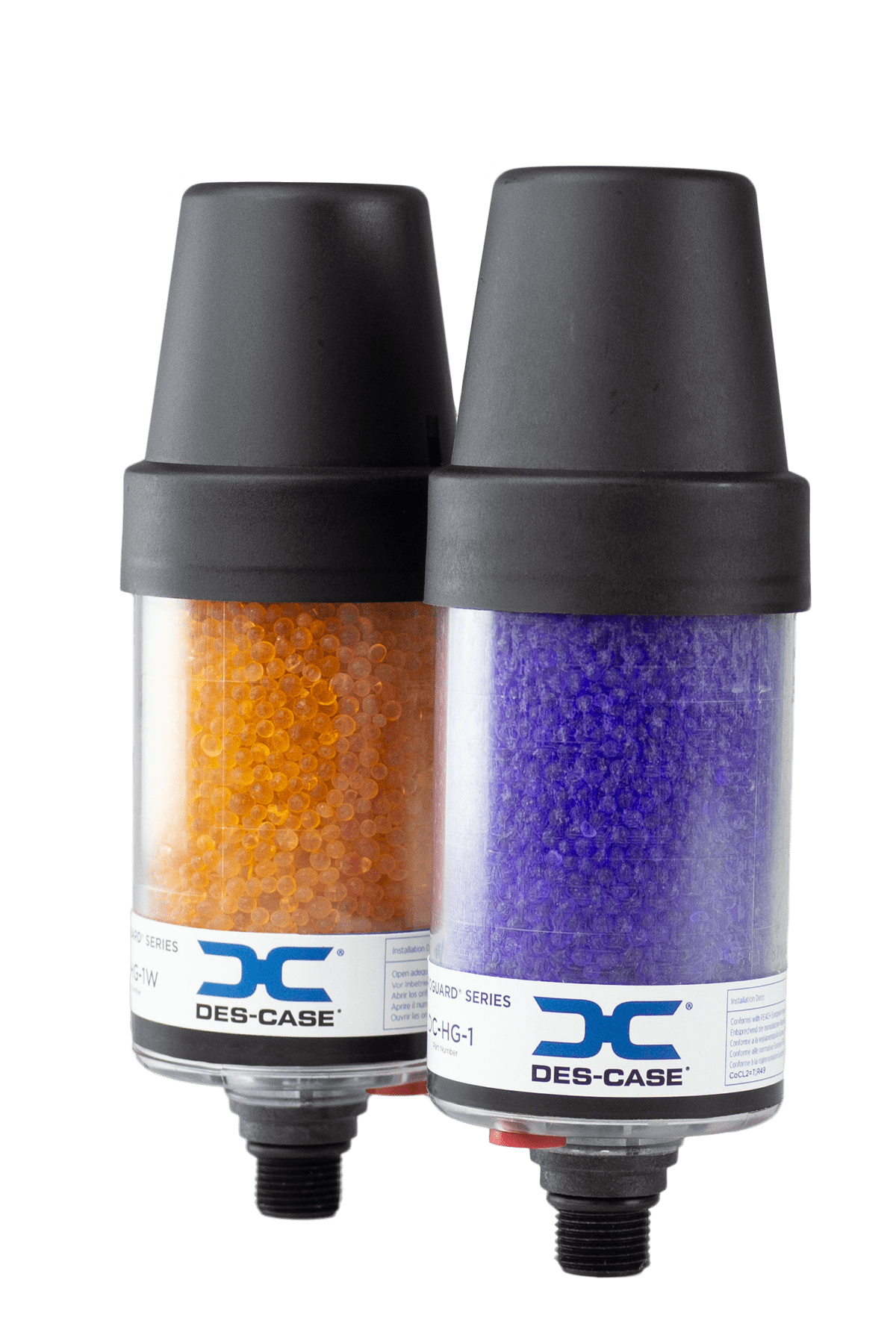 Model Specs
| Model | Unit Height (in / mm) | Unit Diameter (in / mm) | Connection Size | Amount of Silica Gel (lbs / kg) | Adsorption Capacity (fl oz / ml) | Max. Flow Rate (cfm) | Max. Flow Rate (lpm) | Filter Efficiency | Operating Temp. Range (°F) | Operating Temp. Range (°C) |
| --- | --- | --- | --- | --- | --- | --- | --- | --- | --- | --- |
| DC-HG-1 | 7.19 / 182 | 2.52 / 64 | 3/8″ Multi-Fit (NPT, BSPP, BSPT)" | 0.3 / 0.1 | 2 / 50 | 1 @ 1 psid | 40 | 3µ absolute (β₃≥200) | -20° to 200° | -29° to 93° |
| DC-HG-8 | 9.73 / 247 | 4.10 / 104 | 1″ Multi-Fit (NPT, BSPP, BSPT)" | 0.8 / 0.4 | 5 / 144 | 7 @ 1 psid | 198 | 3µ absolute (β₃≥200) | -20° to 200° | -29° to 93° |
Model Sizing
| Model | Suction/Return Rate at 1 psid (gpm/lpm) | Gearbox/Storage Tank Max. Volume (gal/L)  | Hydraulic Reservoir Max. Volume (gal/L) |
| --- | --- | --- | --- |
| DC-HG-1 | 11 / 40 | 50  / 189  | N/A |
| DC-HG-8 | 52 / 198 | 400  / 1514  | 55  / 208 |
Please Note: This is intended as a general guideline for sizing only; other considerations, such as: humidity level, frequency of air flow, ambient temperatures, and chemical compatibility are very important in sizing a breather properly. Larger applications and special circumstances typically require the most thorough analysis. Please contact Des-Case for assistance in sizing a breather.
| Part Number | Description |
| --- | --- |
| DC-18 | 1″-1/4″ Brass Threaded Reducer/Adapter |
| DC-12-T | Threaded Flange Adapter |
| DC-12-TG | Threaded Flange Adapter with Gasket |
| DC-15-T | Bayonet Adapter |
By the Numbers
1. Expansion Chamber
The diaphragm allows for expansion/contraction of the air within the casing as a result of temperature variations during steady-state operations.
2. Foam Pad
Foam filter captures any oil mist and disperses incoming air evenly over filtration and drying areas.
3. Integrated Nylon Standpipe
The integrated standpipe provides excellent vibration resistance and dissipates impact throughout the unit, eliminating weak points. It also allows even airflow distribution throughout the unit, eliminating inaccurate readings of desiccant saturation.
4. Water Adsorbent
Silica gel adsorbs water from incoming air and can hold up to 40% of its weight. Condition is indicated by change of color from blue to light pink.
5. Resilient Polycarbonate Body
Shock-absorbing, clear casing provides reliable service and easy maintenance.
6. Recessed Check-Valves
High-quality umbrella check-valves that won't clog or stick are recessed underneath the unit for added protection from washdown environments. Check-valves isolate equipment from ambient conditions, prolonging breather life.
7. Filter Element
Polyester filter element removes airborne contamination to 3-micron absolute. Unique loops allow particles to release during system exhalation, helping to increase breather life.
8. Threaded Mounting
Easily replaces standard filler/breather cap with multi-fit connection or one of several adapters.
Applications
Steady-State Operations
Gearboxes
High Humidity
Washdowns
Low Flow Applications
Breather Sizing Wizard
Not sure which breather is right for your system? Try our sizing wizard to help determine the best solution for you.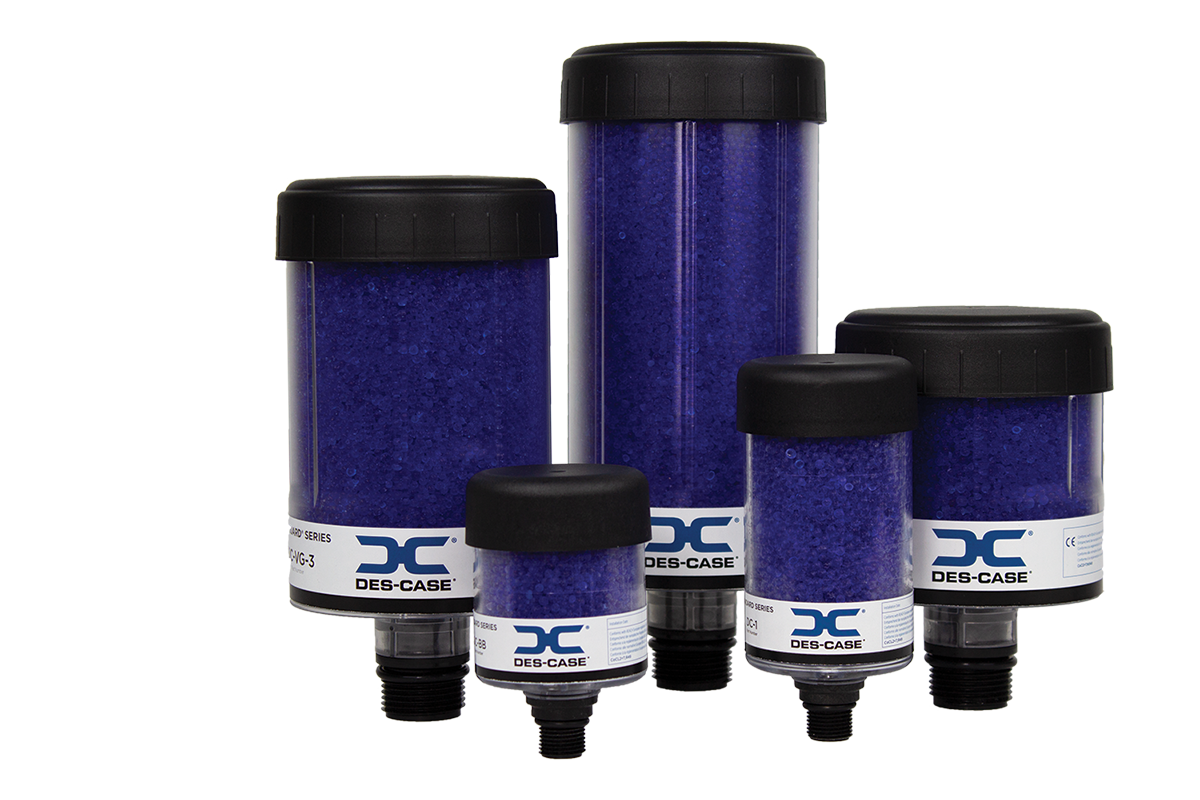 Related Educational Content
More Items You Might Like